ALPS DS WOMEN'S FULL SUSPENSION w/ DISC BRAKES
27.5/650B Womens Specific • WTB TCS™ Wheels • Disc Brakes • Dual Suspension
Sorry, this product is Out of Stock.
SAVE 58% OFF MSRP
NEVER PAY LIST!
Click on images to enlarge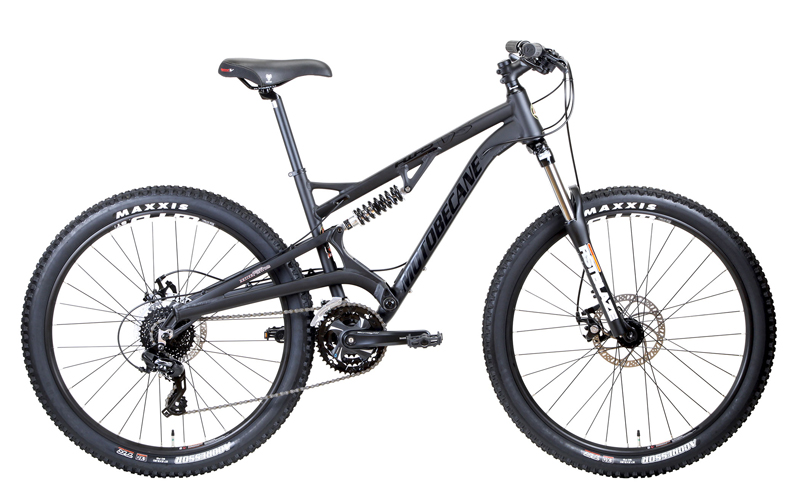 Click on images to enlarge
The Motobecane Alps DS, Women's Specific, Dual Suspension Bike is now available. Take a good look at this bike... it's beautiful as well as being a fantastic performer!

It offers a proven Shimano Drivetrain that brings with it the legendary quality, durability and performance Shimano is known for. It's packaged to meet the ever-evolving demands of today's riders.

Motobecane USA has really dialed in a race-proven geometry into this phenomenal ride. The handling is very responsive and yet stable. Descents, singletrack & switchbacks are all handled with ease. Slow speed and high speed, technical and flat-out hammering, you will go faster because this bike is so darn capable.

Go tubeless if you want. Tubeless compatible wheelsets of this caliber are normally around $400.00 to $600.00 so this is an incredible deal.

WTB Says: "Our TCS™ (Tubeless Compatible System) technology is the solution for riders seeking high performance, lightweight and durable mountain bike wheel systems that are easy to install, fun to ride and simple to service... Simply add your own TCS™ Tires and Sealant/Setup Kit and say goodbye to air compressors, tire levers and pinch flats. Say hello to your full riding potential." Check out the link at the bottom of this page for more info on TCS™ Wheelsets.

Check out these features:
• Front & Rear Suspension
• WTB STP TCS™ Tubeless Compatible Rim Wheelsets ($500 Value)
• Shimano Drivetrain
• Kinesis Engineered Hydroformed 7005 Frame
• PRO-X Sizing for Optimized Ride Performance: Women Specific
• 4x4 Suspension (4in Travel Front & Rear)

Only From BikeShopWarehouse.com

Suggested Sizing Guide
14.5in frame usually fits riders from 5'2" to 5'5" (27.5 wheel)
16.5in frame usually fits riders from 5'6" to 5'8" (27.5 wheel)
Sizing is a personal preference, the final choice is up to you
Sorry this product is out of stock.