SUPERBIRD eBIKE eCRUISER w/ 7 SPEEDS
eBike • LowTide UFit Aluminum Frame • Disc Brakes
Sorry, this product is Out of Stock.
SUPER HOT SALE!
SAVE 67%
Click on images to enlarge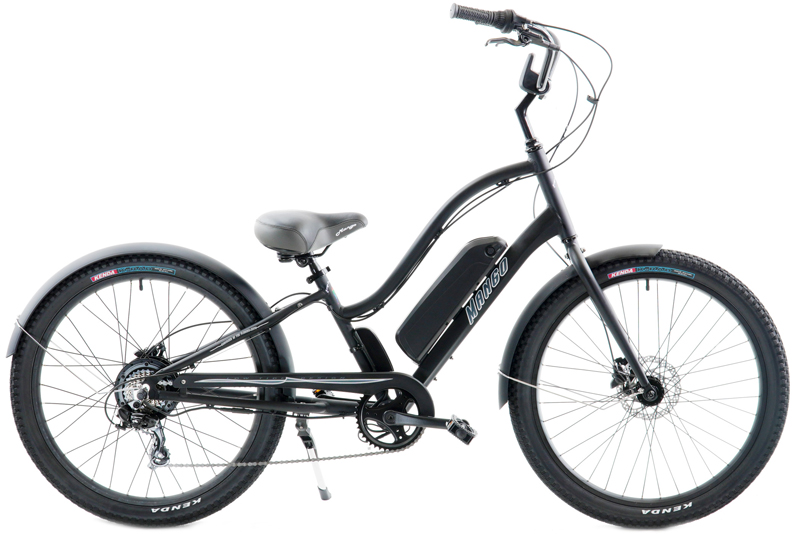 Click on images to enlarge
Mango makes quality bicycles for those people that just want to go out and ride!

Our Low Tide UFit means you can stop & just put your feet down! No dismounting, leaning over, or searching for a curb. The Mango frame design, LowTide UFit strategically places the seat back and lower, allowing the rider ideal leg extension and an overall comfortable riding position.

Riding a Mango eBike is simple joy!

Want Some Help?
The Mango Superbird is powered by a Bafang Rear Hub Motor with a 250W eMotor w/ Electronic Throttle Control that amplifies your every pedal stroke making your ride a breeze. You'll Feel like the wind's always at your back and a spring in your step with every pedal stroke!

Advanced Bafang rear hub pedal-assist motor with 250 watts of power! Enjoy convenient walk assist mode and integrated system display. Super Capacity 417WattHour Advanced Lithium Ion Battery too.

Stop When Ya Want.
These powerful Shimano Hydraulic Disc Brakes and levers are designed to safely come to a stop amid the speed and power that a pedal assist bike yields.

Only from BikeShopWarehouse.com

Due to shipping regulations, we can not ship to Alaska or Hawaii.
Sorry this product is out of stock.