FANTOM 29 CF SS12 CARBON FIBER 1x12 29er
w/ HYDRAULIC BRAKES
Manitou Suspension Fork • Carbon Fiber Frame • 29in Wheels • Hydraulic Disc Brakes
Sorry, this product is Out of Stock.
SAVE 44% OFF MSRP
NEVER PAY LIST!
Click on images to enlarge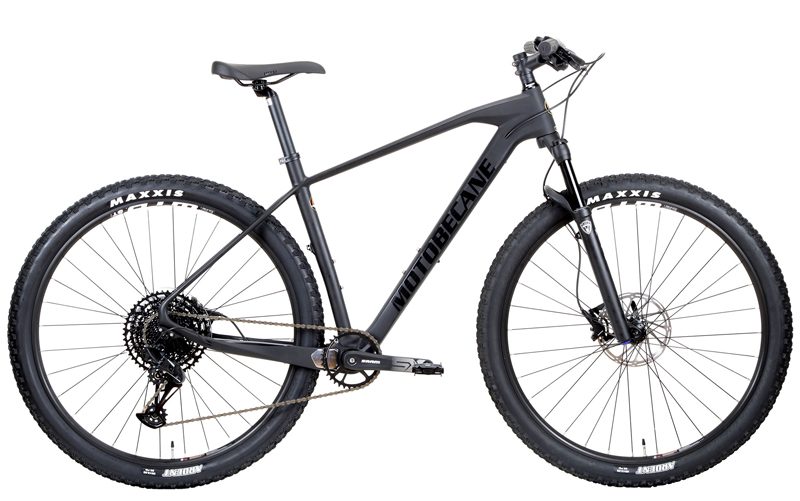 Click on images to enlarge
Join the Carbon Fiber 29er Revolution

If you have ridden one you know why you want one. If you have ever wanted to try one, this is the best deal on a Carbon Fiber 1by, SRAM SX Eagle Drivetrain equipped 29er bike with SRAM DB Hydraulic Disc Brakes and Manitou Marhkor 29 Fork w/ LockOut & more.

Pro29X Carbon Fiber Frame Frame
The Motobecane Fantom 29 CF SS12 boasts a Carbon Fiber Pro 29X Frame!

Competition Ready
The Fantom 29 CF SS12 is specified with competition-ready components and has geometry based on the FLY Team XC Race Bike of the Year. Please compare this bike directly against any other manufacturers $2700+ 29,er hardtail on the market. Their bikes are heavier or not as well equipped.

Extremely capable with long travel Manitou Marhkor 29 Air Front Shock w/ Lockout. The Fantom 29 CF SS12 adds to those race winning specs... a smooth shifting SRAM SX Eagle PowerSpline 1x12 Crank, sweet shifting SRAM RD SX Eagle Derailleur & powerful SRAM DB-Level-A1 Hydraulic Disc Brake system.

Sweet Handling
Motobecane USA has really dialed in a race-proven geometry into this phenomenal ride. The handling is very responsive and yet stable. Singletrack and switchbacks are all handled with ease. Slow speed and high speed, technical and flat-out hammering, you will go faster because this 29'er bike is so darn capable.

Where do I find such a bike, you ask?
Only at BikeShopWarehouse.com

Suggested Sizing Guide
16" usually fits riders from 5'6" to 5'9"
17.5" usually fits riders from 5'9" to 6'0"
19.5" usually fits riders from 6'0" to 6'2"
21.5" usually fits riders from 6'2" to 6'4"
This is a general guide. Sizing is a personal preference, the final choice is up to you.
Sorry this product is out of stock.