ELLE TOWN WOMEN'S 21sp SHIMANO ALUMINUM HYBRID
Comfy Suspension • Adjustable Position • Splashguard Fenders
Sorry, this product is Out of Stock.
SAVE 56% OFF MSRP
NEVER PAY LIST!
Click on images to enlarge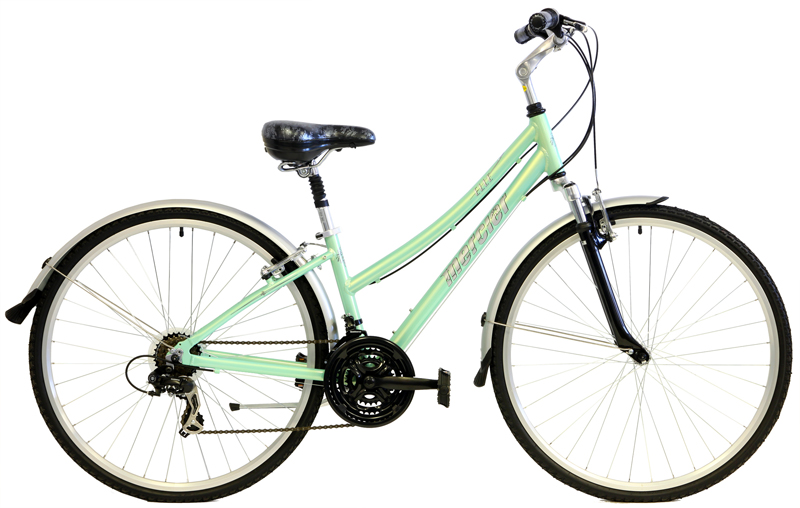 Click on images to enlarge
In keeping with our commitment to provide a great selection in ladies designed bicycles, we are introducing the Mercier Elle Town.

The comfort of a front shock, a shock seatpost, super comfort seat, and an adjustable stem to dial in your riding position. Smooth rolling 700c wheels for a better ride and you have the best of all worlds.

Hi-tech Features:
• Easier toting, Lightweight Aluminum Frame will not rust. Lighter frame is handier on the E or crosstown bus
• No-Rust composite fenders keeps splashes on your outfit to a minimum
• Index Shifting is smooth and efficient, quick and easy
• Powerful Front & Rear V-brakes
• Accessory Compartment Saddle with comfy suspension bumpers & handy integrated trunk that fits most cell phones and other small items (items shown not included with bikes)

Comfort Features:
• Smooth Front suspension fork silkens the road ahead
• Comfy Rear suspension seatpost dampens the bumps from below
• Wide Comfort saddle cushions nicely
• Adjustable height stem for versatile and easy custom fitting

Only from BikeShopWarehouse.com

General Sizing Guide
14" Fits most riders from 4'11" to 5'7"
16" Fits most riders from 5'6" and up
This is a general guide. Sizing is a personal preference, the final choice is up to you.
Sorry this product is out of stock.