BISTRO 7V DELUXE 7sp SHIMANO ALUMINUM BIKE w/ FENDERS & RACK
Matching Fenders & Rear Rack • Lightweight Aluminum Frame • Deluxe Kit Upgrades • Mens & Womens Frames
Sorry, this product is Out of Stock.
SAVE 55% OFF MSRP
NEVER PAY LIST!
Click on images to enlarge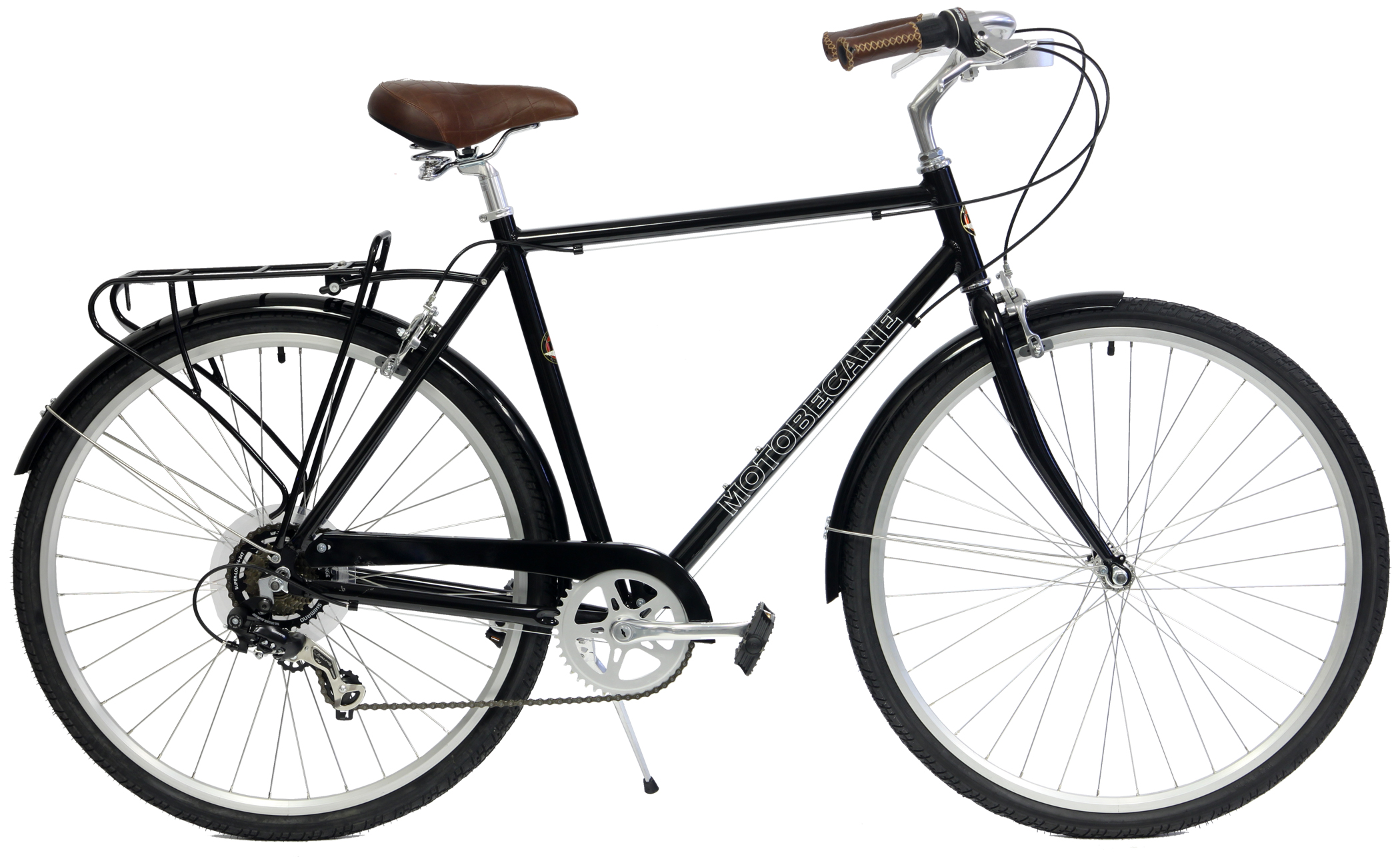 Click on images to enlarge
The Motobecane Bistro 7V Deluxe is the bike you were looking for. It's a stylish City Bikes with 7 speeds & rustproof aluminum frames. The Deluxe version takes it a step further in both styling & functionality by adding a matching rear rack ($60 value), aluminum beverage holder ($20 value), & a toolkit ($30 value).
(Not all pictures show the Deluxe upgrade but all come with Rear Rack, Beverage Holder, & Tool Kit)

Check it out... Components and City Styling are key in this cool, functional design.

Wide range of 7 Speeds means much easier pedaling than simple single speeds. (Single speed bikes are great but more gears are best in hills or headwinds.) The wide selection from Seven gears means you can shift to any you wish for the best efficiency and comfort. A lightweight aluminum frame means the frame will never rust and is lighter and easier to maneuver
Stylish Matching Quilted Stitched Grips and Matching Super comfort spring saddle and wide tires mean you practically float along with reduced road jostling. A City-rise handlebar position and stem make this the bike super Cityable!
Oh, and it comes with a kickstand! When you travel to bicycle dependent countries, this is the type of bicycle you see. They are fun, dependable, comfortable, & fun (yes, I did repeat myself there just to make a point).

Have Fun... Ride a Bike!
BikeShopWarehouse.com

Basic Sizing Guide
Mens 51c fits most riders from 5' to 5'9"
Mens 56c fits most riders from 5'9 to 6'2"
Ladies 44c fits most riders from 4'10" to 5'7"
Ladies 49c fits most riders from 5'7" to 5'10"
Sorry this product is out of stock.