LIBERTY GRV ALUMINUM 14sp ROAD / GRAVEL BIKE
Shimano • Semi-Compact Aluminum Frame • DoubleWall Alloy Wheels
Sorry, this product is Out of Stock.
SAVE 59% OFF MSRP
NEVER PAY LIST!
Click on images to enlarge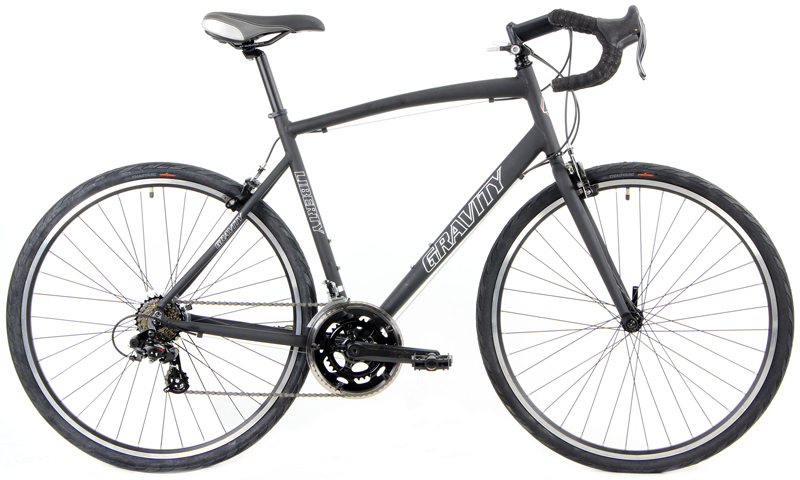 Click on images to enlarge
The Gravity Liberty GRV is just the bike for the rider wanting the performance of an aluminum frame, wide gearing, comfortable riding position and dealing with a budget. Higher performance and more comfort with the Advanced StraightBlade Chromoly Fork..

The Gravity Liberty frame is precision welded from specially shaped lightweight and strong aluminum tubing. The tubing is Gravity's own special CXSeries TubeSet. Look at the engineered, hydroformed top tube and bi-oval downtube. This is designed for a responsive performance while maintaining a comfortable ride quality. The frame is a semi-compact geometry which allows for a bit more comfortable and upright position yet is still aero-enough for some serious riding.

Only from BikeShopWarehouse.com

Due to a negotiated reduction in shipping costs, this new model can be offered at a lower price.
This does not apply to the previously purchased models.

Suggested Sizing Guide
Most riders from 5'1" to 5'3" choose a 43c
Most riders from 5'3" to 5'5" choose a 46.5c
Most riders from 5'6" to 5'8" choose a 50c
Most riders from 5'9" to 5'11" choose a 53.5c
Most riders from 6'0" to 6'2" choose a 55.5c
Most riders from 6'3" to 6'5" choose a 58.5c
This is a general guide. Sizing is a personal preference, the final choice is up to you.
Sorry this product is out of stock.