eNEVADA 27.5 2.1 eBIKE FUJI 2019
Mountain eBike • Aluminum Frame • Shimano Hydraulic Disc Brakes
Sorry, this product is Out of Stock.
SOLD OUT!
NEW MODELS COMING!
Click on images to enlarge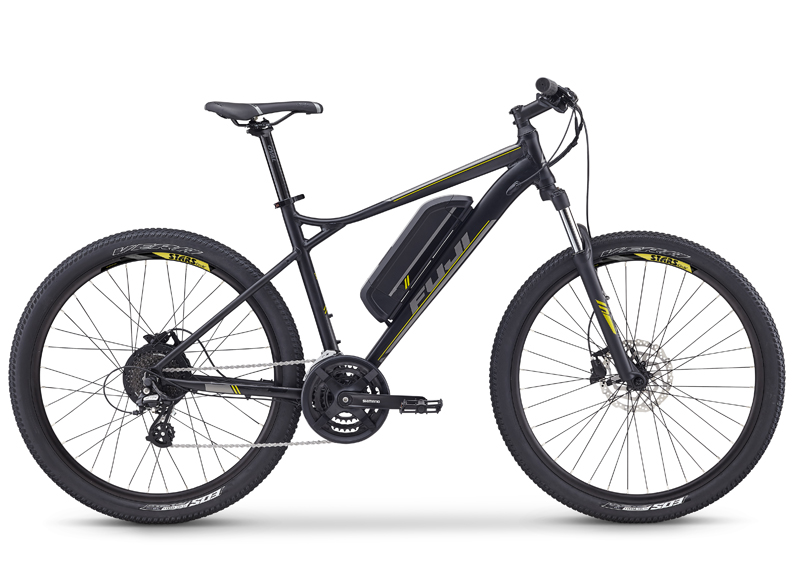 Click on images to enlarge
Introducing the all new Fuji eNevada 2.1 Mountain eBike

When you're ready to jump into off-road riding, the eNevada can help get you started in style and power. Based on our popular Nevada series, the eNevada adds a 250-watt, pedal-assist motor to give you the boost you need to get up the hill or across the ridge. With Shimano Hydraulic Disc Brakes, the eNevada has the stopping power needed to feel confident wherever the trail may lead.

Powered by a Bafang pedal assist motor, the eNevada packs plenty of power to the pedals, plus a lightweight A2-SL aluminum frame with Shimano Hydraulic Disc Brakes and a 100mm suspension front fork for a go anywhere, do anything ride.

• A1-SL aluminum frame that includes offers Fuji's best durability
• 100mm suspension fork for a smooth and forgiving ride
• Bafang H400B rear hub pedal-assist system
• Shimano Hydraulic Disc Brakes
• Kickstand & Bell

Where can you find a deal like this?
Only at BikeShopWarehouse.com

Due to the size of these boxes, shipping costs are much higher. While we still do not charge for shipping, any returned eBikes will have $100.00 return fee deducted from your refund.

Due to shipping regulations, we can not ship to Alaska or Hawaii.
Sorry this product is out of stock.