ELITE eADVENTURE MID-DRIVE SHIMANO ADVENTURE eBIKE
eBike • Mid Drive Shimano Motor • Shimano Hydraulic Disc Brakes
Sorry, this product is Out of Stock.
SOLD OUT
MORE COMING!
Click on images to enlarge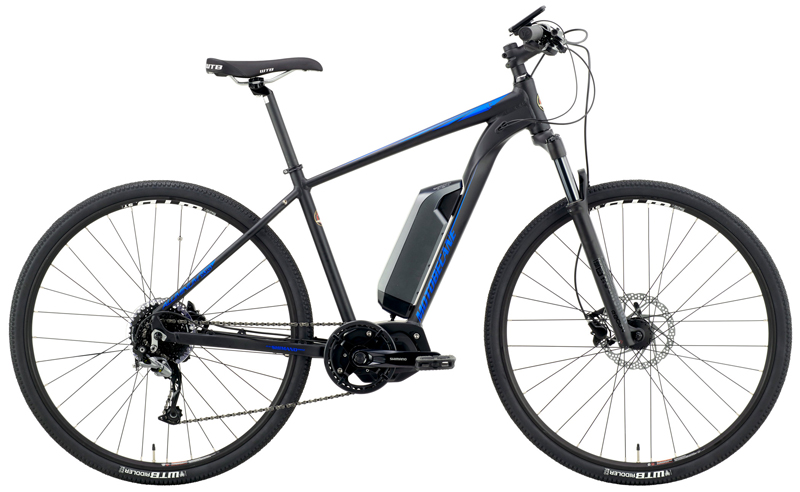 Click on images to enlarge
It's Here... The Motobecane Elite eAdventure, a dual sport eBike designed to be stable and durable enough to conquer unpaved trails, but fast & agile enough for city streets. It comes with a StepOver or a StepThru Frame design.

Powered by a Shimano STePS Mid Drive Motor, the Elite eAdventure packs plenty of power to the pedals, plus a lightweight 6061 Aluminum Frame with Shimano Hydraulic Disc Brakes and a RockShox Recon Suspension Front Fork for a go anywhere, do anything ride.

• 6061 Aluminum HydroFormed Frame
• RockShox Recon Suspension Fork for a smooth and forgiving ride
• Shimano Hydraulic Disc Brakes
• Shimano STePS Mid Drive Motor
• Shimano Battery Charger
• Shimano Lock for Battery
• Shimano Power Cable
• WTB ST i23 Tubeless Compatible Rims
• Dropper Seat Post Routing
• Rear AdjustableKickstand

Where can you find a deal like this?
Only at BikeShopWarehouse.com

General Sizing Guide
41c StepOver usually fits 5'3" to 5'7"
46c StepOver usually fits 5'7" to 5'11"
51c StepOver usually fits 5'11" to 6'3"
39c StepThru usually fits 5'0" to 5'5"
50c StepThru usually fits 5'5" to 5'10"
This is a general guide, please consult the geometry chart. Sizing is a personal preference, the final choice is up to you.

Due to the size of these boxes, shipping costs are much higher. While we still do not charge for shipping, any returned eBikes will have $100.00 return fee deducted from your refund.

Due to shipping regulations, we can not ship to Alaska or Hawaii.
Sorry this product is out of stock.