YEAREND CLOSEOUT SALE
Click on images to enlarge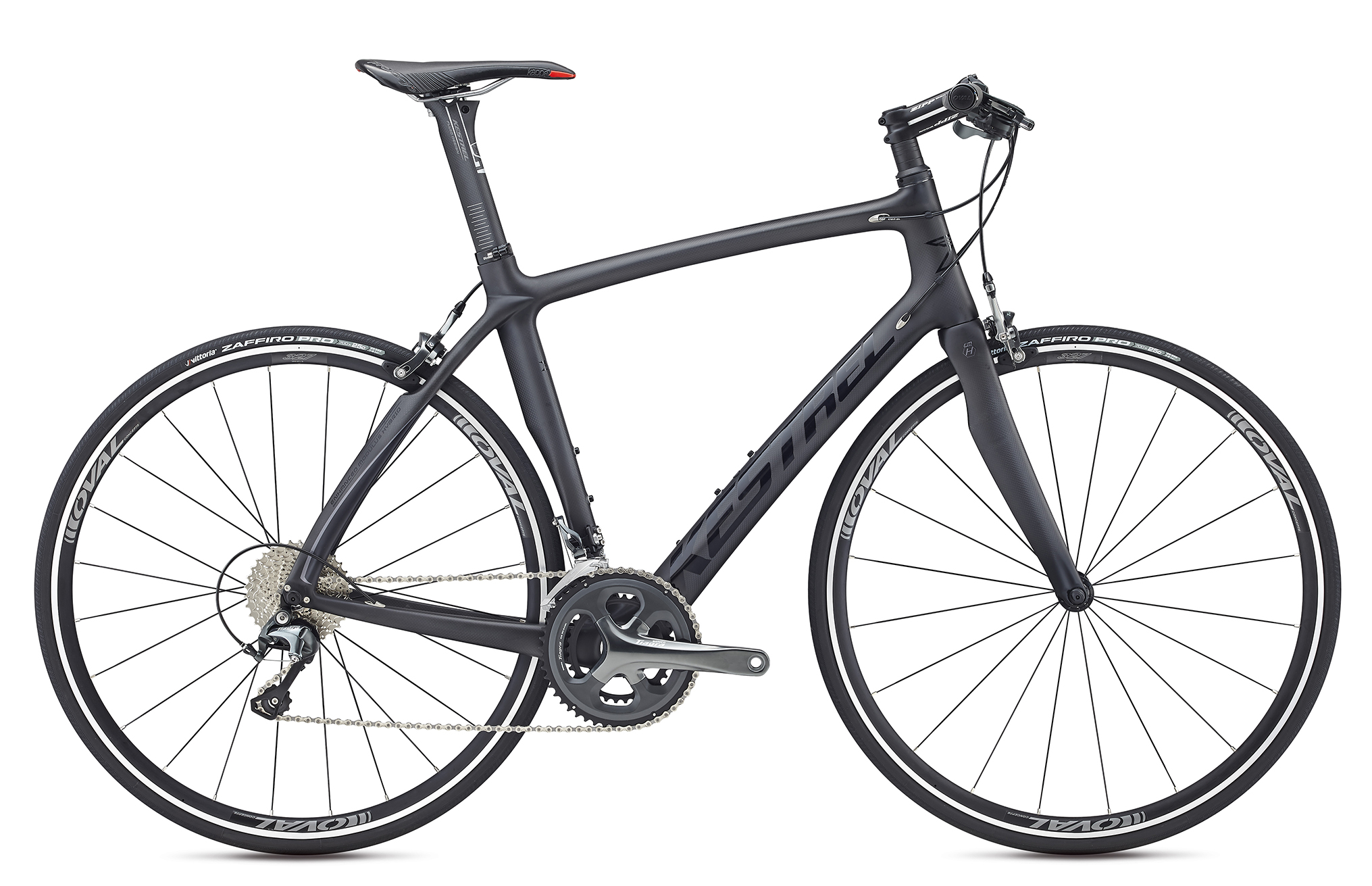 Click on images to enlarge
The Kestrel RT-1000 Tiagra Flat Bar is the ideal choice for enthusiast or endurance road riders who like to stretch out their mileage on the weekends, ride Gran Fondos, who may have back problems, or who simply want a top-of-the-line machine but without the race geometry.

A close cousin to the Legend but with more relaxed geometry, the RT-1000 boasts Kestrel's aerodynamic DNA and is, therefore, plenty fast – yet offers greater comfort over longer distances.

• Constructed of Kestrel's Enhanced Modulus Hybrid (EMH) carbon – a combination of 800K and 700K carbon fibers – it's lightweight and stiff, yet also designed to offer a bit more compliance.
• Tapered 1 1/8 – 1 ½ head tube enhances lateral stiffness for excellent steering precision.
• Endurance geometry features a taller head tube that puts the rider in a more upright position to ease back fatigue, a longer wheelbase that increases stability, and a slightly sloping top tube that allows the rider to mount and dismount more easily.
• New for 2017, three flat bar models have been added to the RT-1000 series! Featuring ergonomic grips, a slightly wider width Prologo saddle, and available in Shimano Ultegra, Shimano 105, or Shimano Tiagra the RT Series has gotten even more comfortable.
• BB30 bottom bracket maximizes frame stiffness at the crank.
• Proprietary Kestrel H-Stays – the uniquely, asymmetrically shaped seat stays and chainstays – are designed to improve lateral stiffness and thus power transfer, while also supplying vibration dampening.
• The stays, seat post, and seat tube are aerodynamically contoured; plus, fully internal cable routing ensures clean airflow over the entire bike.
• Each of the six sizes has unique tube lengths, diameters, shapes, and carbon layups to produce the best possible ride quality for every size rider.

Where can you find the best price on this superb bike?
Only from BikeShopWarehouse.com

NOTE: Kestrel bikes require longer for processing. They take up to a week for processing and then the standard FedEx shipping time of up to 6 days for delivery. You will receive the tracking number when the bicycle ships. If you are interested in a model not listed, give us a call and we can try to get it for you and save you money!
Sorry this product is out of stock.