SAVE 61% OFF MSRP
NEVER PAY LIST!
Click on images to enlarge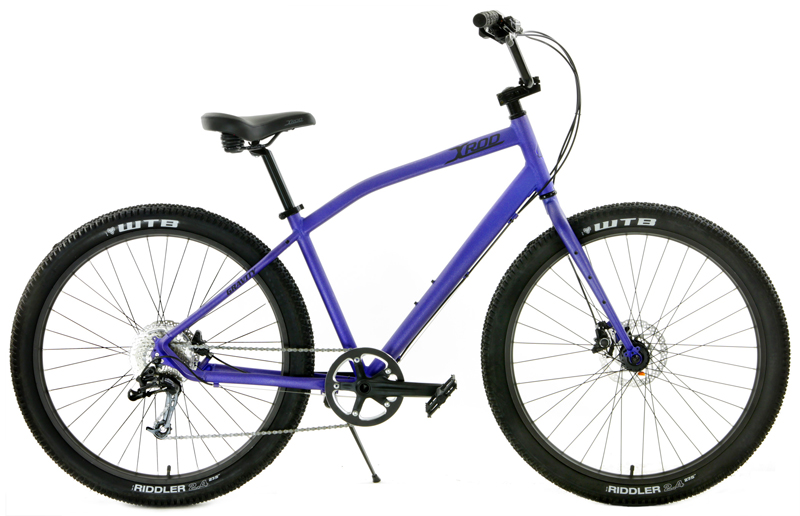 Click on images to enlarge
The Gravity X-Rod is just the bike for the rider wanting the strong & lightweight performance of an aluminum frame, wide gearing & CrossX Handlebars (For comfortable upright riding position). Customers say it is a perfect dual-sport / hybrid / trail bike... Plus they look Dope!

TrifectaMount Braze-Ons on the fork means you can attach almost any conceivable accessory.
Shimano Hydraulic Disc Brakes for sure stopping for nearly any conditions.
WTB Riddler Comp Wide Tires are super comfy & ride over just about anything.

The X-Rod frame is precision welded from specially shaped lightweight & strong aluminum alloy tubing. The tubing is Gravity's own special XRSeries tubing.
Look at the engineered top tube & downtube. This is designed for a responsive performance while maintaining a comfortable ride quality. The frame is available in a semi-compact geometry which allows for a bit more comfortable and upright position or LoRise Design.
(LoRise is an easy straddling and step through super low top tube design for the ultimate straddle room)

All X-Rods are equipped with advanced 1BY Drivetrains for top reliability, top shifting, lighter weight and less maintenance fuss.

The X-Rod Saddle is a custom design that is one of the most comfortable saddles we've ever sat on. It features a specially shaped wide and ergonomicly engineered seating surface. Underneath the saddle has an advanced elastomer suspension that absorbs much of the vibration and road / trail surface buzz that other saddles don't. These special saddles are normally $79.95 alone, it's included as standard equipment on your new ride.

Just check out these features on the X-Rod 9:
• StraightBlade Forks w/ Trifecta Mounts
• Shimano Hydraulic Disc Brakes
• SRAM 1BY Drivetrain w/ 9 Speeds
• XRSeries Aluminum Frame (lighter, higher performance with comfortable semi-upright geometry)
• CrossX Handlebars
• WTB Riddler Comp 27.5x2.4 Tires

Only from BikeShopWarehouse.com

General Sizing Guide
37.5c Mens Generally fits riders 5"3" to 5'7"
44c Mens Generally fits riders 5"8" to 5'11"
48c Mens Generally fits riders 6"0" to 6'4"
37c LoRise Generally fits riders 5"1" to 5'6"
48c LoRise Generally fits riders 5"7" to 6'0"

Sorry this product is out of stock.