WE HAVE THE BEST PRICE!
Click on images to enlarge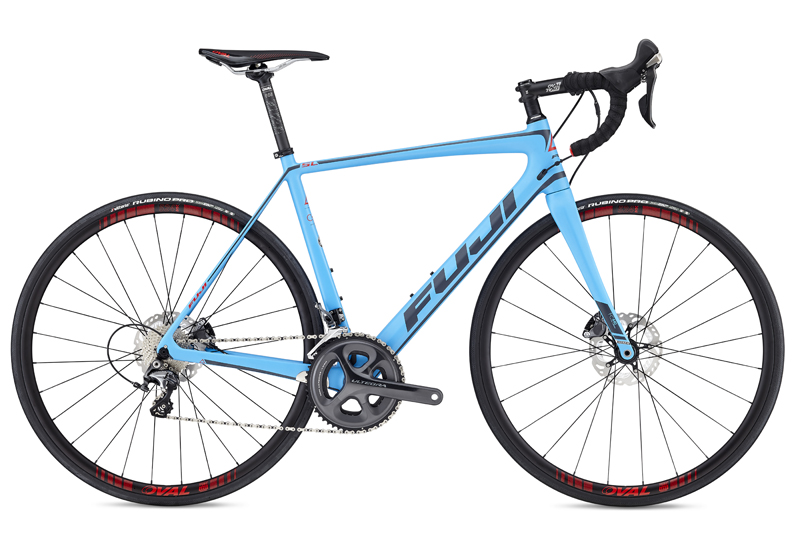 Click on images to enlarge
The SL Series was born out of the quest to create one of the lightest bikes in the world, a machine weight weenies dream of. When every gram matters, ingenuity follows: Through High Compaction molding and the reduction of bonded joints the SL delivers an extremely lightweight frame without compromising on frame stiffness. The SL 2.1 Disc is in an elite class of ultralight bicycle and is elevating Fuji road bikes to a higher level.

Key Features
• Constructed using High Compaction(HC) molding; a series of internal molds that eliminate wrinkles and excess resin buildup in high-stress, complex-radius-bend areas for greater compaction in the carbon layers, creating a lighter and stiffer frame
• Fork uses HC molding and RIB technology, a reinforcing rib that runs the length of the fork blades, amplifying stiffness for razor-sharp steering precision
• Shimano Ultegra Derailleurs & Cassette
• Shimano Ultegra Hydraulic Disc Brakes
• Shimano Ultegra Crankset
• Headtube angle and fork offset were carefully chosen to be within the optimal range of trail adjusted throughout the size range to ensure stable steering and confidence-inspiring handling
• Unique tube diameters and carbon layups for each size frame produces a consistent ride quality across the full size range
• Frame features only four bonded joints where most frames use eight or more; the more bonding points you can eliminate the stronger and lighter the frame becomes
• Oval-shaped, super-thin seatstays reduce weight and increase ride comfort
• Oval Concepts 524 Disc wheels
• Injection-molded cable stops and internal cable routing allow for the use of mechanical or electronic drivetrains while keeping cables neatly routed and out of the elements
Integrated chain watcher ensures smooth shifts without the risk of dropping the chain to the inside of the crank
• Chainstay protector ensures the frame won't be damaged in the event of chain suck

Where can you find a deal like this?
Only at BikeShopWarehouse.com

NOTE: Fuji bikes require longer for processing. They take up to a week for processing and then the standard FedEx shipping time of up to 6 days for delivery. You will receive the tracking number when the bicycle ships. If you are interested in a model not listed, give us a call and we can try to get it for you and save you money!

Basic Sizing Guide
46c generally fits riders from 5'0" to 5'2"
49c generally fits riders from 5'3" to 5'5"
52c generally fits riders from 5'5" to 5'7"
54c generally fits riders from 5'7" to 5'9"
56c generally fits riders from 5'9" to 5'11"
58c generally fits riders from 6'0" to 6'2"
61c generally fits riders from 6'3" to 6'5"

This is a general guide, please consult the geometry chart. Sizing is a personal preference, the final choice is up to you

Sorry this product is out of stock.