WE HAVE THE BEST PRICE!
Click on images to enlarge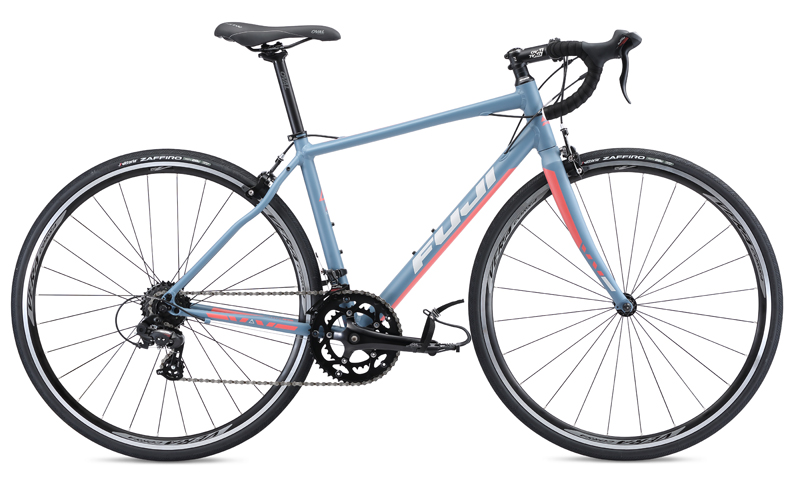 Click on images to enlarge
There's just something about a drop bar road bike... It's a statement!

The Fuji Finest 2.5 lives up lives up to that statement.

Fuji is well known for providing a full range of women's specific road bikes.
These bikes aren't just "girlie' colors. They are designed with a woman's need in mind.

The frame comes in a wide range of sizes, the handlebars have a shallower drop, and a woman's specific saddle.

Since the early 1970s Fuji has produced premium bikes for women. Continuing that tradition is the Finest. A women's-specific aluminum road bike that incorporates some of the design and technology features of Fuji's top-of-the-line models into a fitness minded, smooth-riding, perfectly-fitted road bike.

Here's a bike with all the features you could want.
• A2-SL Lightweight Aluminum Alloy Frame
• Lightweight Alloy Fork
• Shimano Shifting
• Vera Corsa Alloy DoubleWall Rims

Key Features of the Finest Line
• A2-SL double-butted alloy frame that is both strong and lightweight.
• Women's-specific geometry makes for a shorter top tube and more stand-over clearance instills confidence when riding.
• Women's-specific saddle, narrower handlebars and reach-adjust brake levers for improved rider contact.
• Taller head tube puts the rider in a more upright position for easing lower-back fatigue and enhancing comfort.
• Rack and fender mounts add carrying capacity and all-weather utility.

Where can you find a deal like this?
Only at BikeShopWarehouse.com

NOTE: Fuji bikes require longer for processing. They take up to a week for processing and then the standard FedEx shipping time of up to 6 days for delivery. You will receive the tracking number when the bicycle ships. If you are interested in a model not listed, give us a call and we can try to get it for you and save you money!
Sorry this product is out of stock.