WE HAVE THE BEST PRICE!
Click on images to enlarge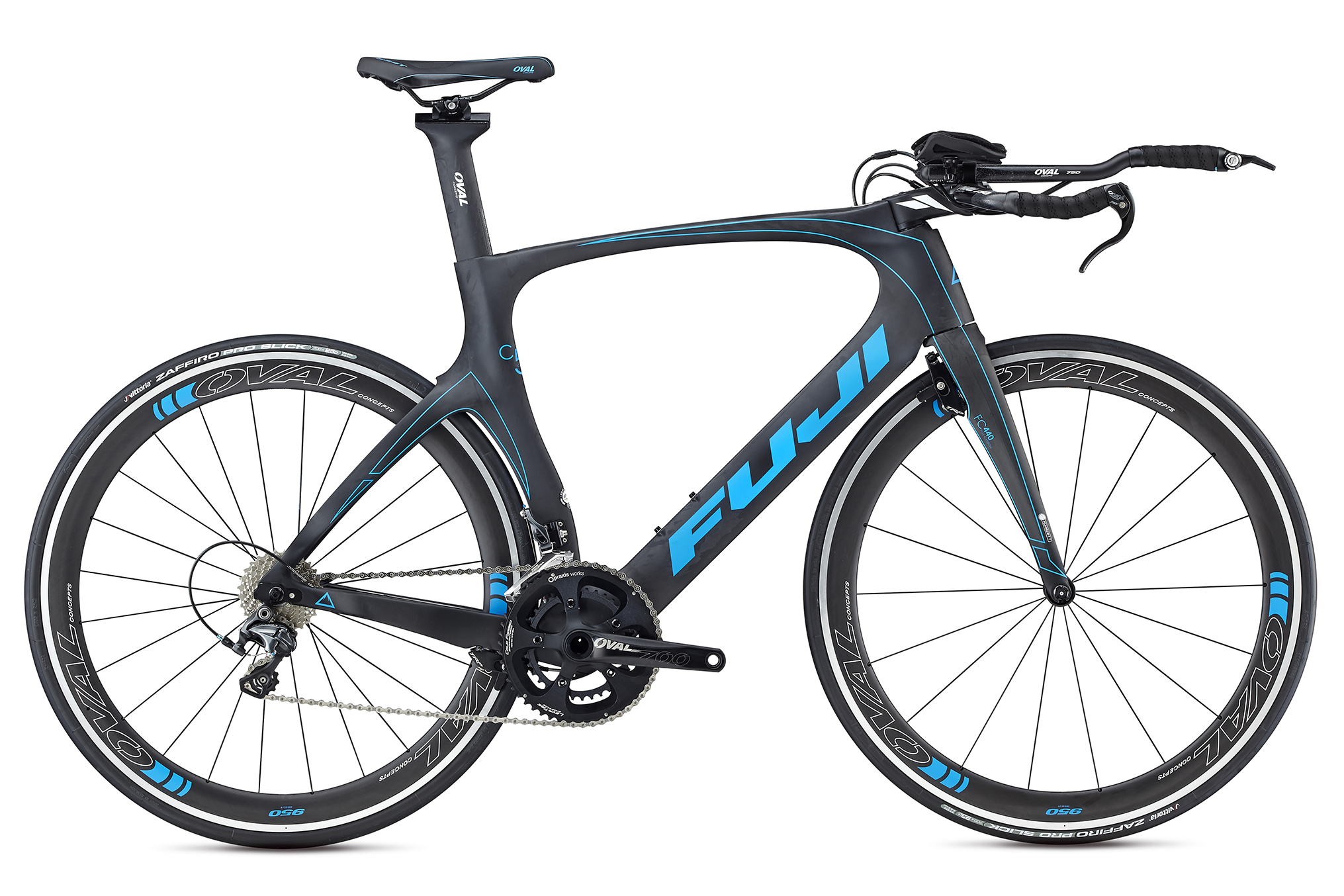 Click on images to enlarge
Ready to make that big improvement in your next tri? Here you go...

The Fuji Norcom Straight 2.1 is your ally when time in your enemy!

The Norcom Straight's C5 Carbon Frame & FC-330 Carbon Fork technology offers amazing stiffness, steering response, and of course, aerodynamics. Norcom was engineered largely in the legendary A2 Wind Tunnel facility in North Carolina, designed to significantly reduce the drag on every angle on the frame and fork.

The Norcom 2.1 features a Shimano Ultegra 11-speed drivetrain and an Oval Concepts 700 52/36 crankset. Add to that Oval Concepts 950F Aero Carbon/Alloy wheels and Vittoria Zaffiro Pro Slick tires and you have dependable performance and aerodynamics.

The Norcom Straight was launched under the mantra: Fit Comes First. It was developed in the A2 Wind Tunnel to be one of the fastest bikes in the world. But more importantly, it was designed to offer more positioning options than any other superbike on the market. Fuji believes that the more adjustability available, the more easily riders are able to dial-in their best, most aerodynamic position that doesn't constrict their lungs or compromise their hip flexors, allows them to find their optimal level of comfort and, therefore, increases their efficiency and speed. Add to that ease of maintenance and assembly/disassembly and the Norcom Straight is the obvious choice for your next tri or TT bike.

• C5 high-modulus carbon frame
• Frame pocket engineered into the head tube allows for 135mm of cockpit height adjustability by enabling riders to either slam the stem within the pocket for an ultra-aggressive, low position or mount it on stacked
• Shimano Ultegra • Oval Concepts carbon seat post
• TRP aero TTV brakes positioned at the rear of the fork on the trailing edge of the airfoil improve aerodynamics, producing 18% less drag than front-mounted designs
• Horizontally adjustable vertical dropouts allow for easy rear wheel changes
• All Norcom Straight models and frames come equipped to accept either mechanical or electronic shifting systems

Where can you find a deal like this?
Only at BikeShopWarehouse.com

NOTE: Fuji bikes require longer for processing. They take up to a week for processing and then the standard FedEx shipping time of up to 6 days for delivery. You will receive the tracking number when the bicycle ships. If you are interested in a model not listed, give us a call and we can try to get it for you and save you money!
Sorry this product is out of stock.