NIGHT TRAIN FAT 1BY w/ SRAM SX Eagle
SRAM SX EAGLE 1BY • Shimano Hydraulic Disc Brakes • Dropper SeatPost
Sorry, this product is Out of Stock.
SAVE 71% OFF MSRP
NEVER PAY LIST!
Click on images to enlarge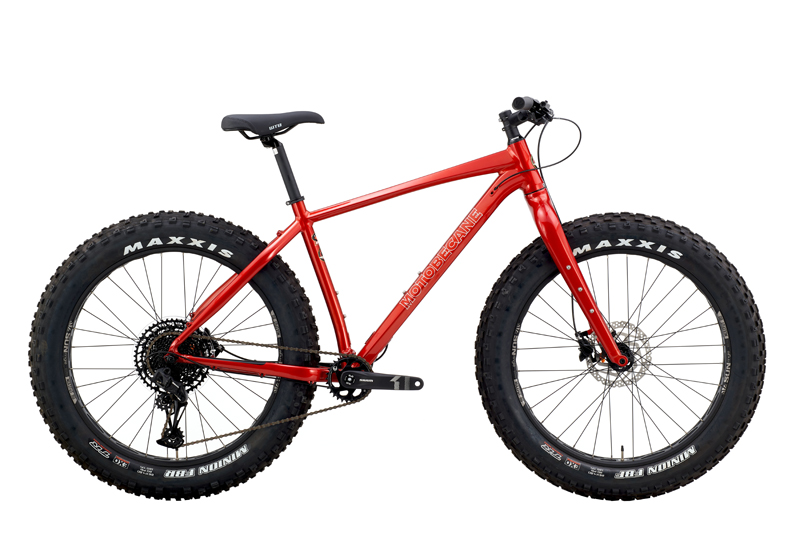 Click on images to enlarge
JUST IN!

David (our bike guru) sez... "If these fit, you should get"!

FAT Bikes! An ingeniously simple concept. Giant tires equals more control in loose conditions.
(see, I told you it was simple)

Check out the Motobecane Night Train 1by

Super wide tires "float" over snow and sand…the fastest bikes you'll ever ride on mud, bogs, deep sand and snow. As a bonus, they're great conversation starters and super smile-generators!

How much does a fat bike weigh?

These bikes are big and Big Fun. Big weighs more. Most average fat bikes weigh between about 30 and 40 pounds. How much do these fat bikes weigh? Compare specs, aluminum fat bikes with similar parts will weigh the about the same.

How do Fat Bikes ride?

Way better than standard mountain bikes in snow? Yes. No Doubt. You'll ride over absolutely almost everything. Float over three feet of soft powder snow or deep sugar sand and laugh! That curb coming up won't phase you in the least. You'll do a tons more riding – and way less walking.


Awesome in rough conditions such as sand & snow Just deflate the tires to provide more traction. Compare Fat Bikes to the difference between a car and monster truck SUV. Your fat bike can go more places, like sport utility vehicles.


The hottest trend in the mountain biking world right now. Fat bikes are hard to miss. Their giant, "fat" tires roll over virtually anything, which makes them an ideal winter mode of transportation because they help cyclists traverse snowy and icy trails with ease and traction as well as summer fun at the beach or the bayou.

Some local bike experts dubbing fat bikes as the all-around mountain bike of the future.

Check out the features on the NightTrain Bullet
• SRAM SX Eagle Crank
• SRAM SX Eagle Derailleur
• SRAM SX Eagle Shifter
• Shimano Hydraulic Disk Brakes
• SUN-RINGLE Mulefüt SL Tubeless Compatable Rims
• KindShock DropperSeat Post w/ Internal Routing
• WTB Saddle

Who got dis fatty?
BikeShopWarehouse.com do!

General Fit Guide Rider Height Range
15.5" fits most riders 5'5" to 5'8"
17.5" fits most riders 5'8" to 6'0"
19" fits most riders 6'0" to 6'3"
21" fits most riders 6'3" to 6'7"
Sizing is a personal preference and the choice is ultimately up to the customer!

PLEASE NOTE: Due to the size of these boxes, shipping costs are much higher. While we still do not charge for shipping, any returned Fatbikes will have $100.00 return fee deducted from your refund.
Sorry this product is out of stock.