SAVE 50% OFF MSRP
NEVER PAY LIST!
Click on images to enlarge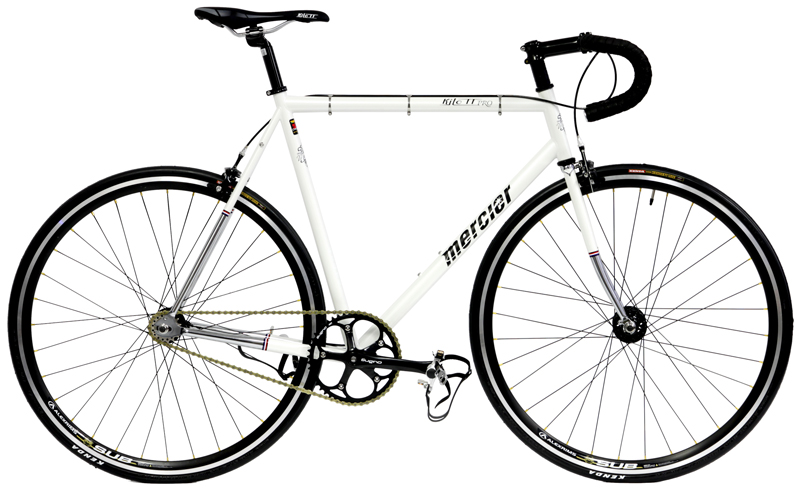 Click on images to enlarge
A long-standing classic in the Mercier lineup, the Kilo TT Pro blends classic track bike frame geometry with sophisticated styling that renders an authentic machine regarded for both function and beauty. Take a look at the Chrome Fork Tips & Rear Stays. It brings a touch of Classic Elegance, don't you think?

The Mercier Kilo Pro might just be the most simply elegant bike you can ride on the road today. Based on the Japanese Keirin style track bikes, the Kilo is an all-purpose single-speed commuter or urban utility bike that might just be the most fun bike you've ever ridden.

The Reynolds 520 Chromoly Frame is lightweight but super strong, like you would expect. The traditional track fork offers quick handling on crowded streets or urban jungles.

The rear hub comes with a fixed gear cog on one side. You can purchase a single speed freewheel from your Local Bike Shop & attach it on the other side and have the ability to flip/flop it to your liking. (Please check/tighten your lockring prior to every ride)

Although Keirin bikes are famously brakeless, the Kilo TT Pro has alloy dual pivot brakes because at some point you may have to make a stop. These are included and you can add them or not based on your preference. Pictures show bikes with brakes installed (white) and without (gray & orange)

Key Features
• Reynolds 520 Chromoly Steel Frame.
• Flat Crown Fuji Chromoly Fork.
• Fixie included, Hub will accept Freewheel on opposite side.
• Chrome Tipped Fork & Chrome Rear Stays add a tough of ODE (Old Day Elegance).
• Threadless Headset & Stem & clamp-on cable guides.

Only at BikeShopWarehouse.com

Basic Sizing Guide
(These Bikes Are Measured Center to Top) 50c generally fits riders from 5'6" to 5'8"
53c generally fits riders from 5'9" to 5'11"
55c generally fits riders from 6'0" to 6'2"
57c generally fits riders from 6'3" to 6'5"
60c generally fits riders from 6'6" to 6'8"
63c generally fits riders from 6'8" to 7'0"

This is a general guide, please consult the geometry chart (See Link Below). Sizing is a personal preference, the final choice is up to you

Sorry this product is out of stock.