KEEP IT SIMPLE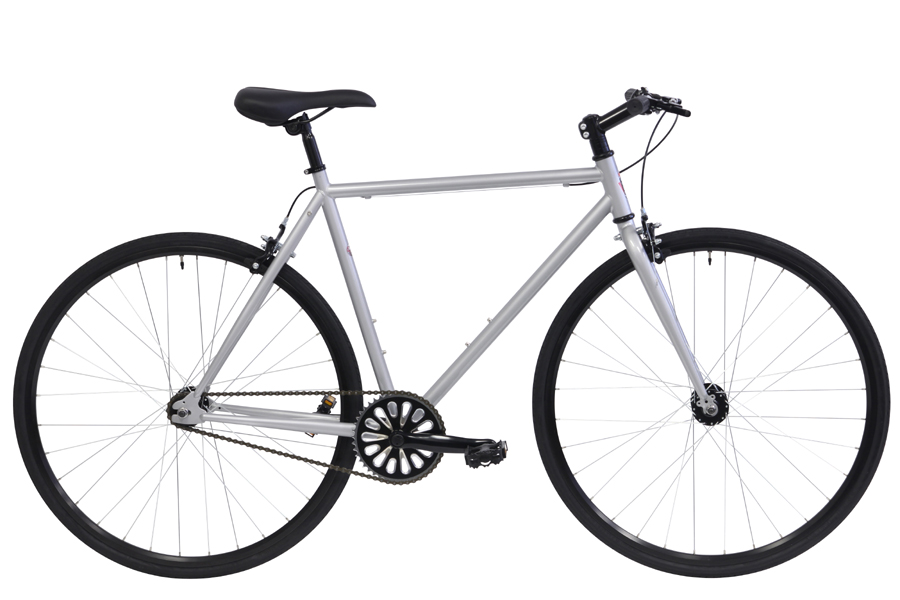 Click on images to enlarge
KEEP IT SIMPLE.

WE THINK THIS ELOQUENT ADVICE LENDS ITSELF TO BICYCLES PERFECTLY.

RIDING A SINGLE-SPEED BIKE IS A MIND SET... LET GO OF ALL THOSE CONCERNS SUCH AS WHEN DO I SHIFT? ARE MY GEARS ADJUSTED CORRECTLY? AM I IN THE BEST GEAR? (BTW, THE ANSWER TO THE LAST QUESTION IS YES!)
JUST GET ON AND RIDE. THINK ABOUT WHAT'S GOING ON AROUND YOU. FEEL THE WIND IN YOUR FACE. HEAR THE DOG'S BARKING. ENJOY THE SUN ON YOUR BACK. WHEN YOU GET THERE, YOU'RE THERE!

THE DAWES MTA HAS MOUNTS FOR TWO WATER BOTTLES AS WELL AS MOUNTS FOR FENDERS, & RACKS AS WELL AS A REMOVABLE CHAIN GUARD (NOT SHOWN). THIS MAKE IT AN EXTREMELY VERSATILE RIDE. SET IT UP AS AN URBAN COMMUTER, A MESSENGER BIKE, FITNESS TRAINER, OR JUST RIDE IT STOCK. IT'S UP TO YOU.

OH YEAH, ONE MORE THING TO THINK ABOUT. THIS SINGLE SPEED BIKE IS SO INEXPENSIVE THAT YOU CAN GET ONE FOR YOUR SIGNIFICENT OTHER ALSO. RIDE TOGETHER, IT'S MORE FUN THAN RIDING ALONE. WHERE CAN YOU GET A BIKE LIKE THIS, YOU ASK? ONLY AT BIKESHOPWAREHOUSE.COM!

Specifications:
Main Frame: URBAN 1sp DESIGN DURAFORT CROMOLY PLUS
Fork: STRAIGHT BLADE CROMOLY PLUS w/FENDER MOUNTS
Crank Set: ALLOY 3-pc 44T
Bottom Bracket: VP-B32
Pedals: FPD RESIN w/ALLOY CAGE
Front Derailleurs: N/A
Rear Derailleurs: N/A
Shifters: N/A
Free Wheel / Casssette: SINGLE SPEED 16T
Chain: KMC Z410
Front / Rear Hubs: FORMULA HIGH FLANGE ALLOY NUTTED
Spokes: 14G w/BRASS NIPPLES
Rims: DA-17 DOUBLE WALL ALLOY BLACK 32H
Tires: 700x28c BLACK
Brake Set: C-STAR ALLOY
Brake Levers: C-STAR ALLOY
Headset: THREADLESS
Handlebars: BLACK UPRIGHT
Tape / Grip: BLACK KRAYTON
Stem: BLACK THREADLESS WITH 10 DEGREE RISE
Saddle: VELO w/BLACK BUMPER
Colors: SILVER MOON
Sizes: 52c, 54c, 56c, 58c