CALL FOR THE BEST DEAL ANYWHERE!
Click on images to enlarge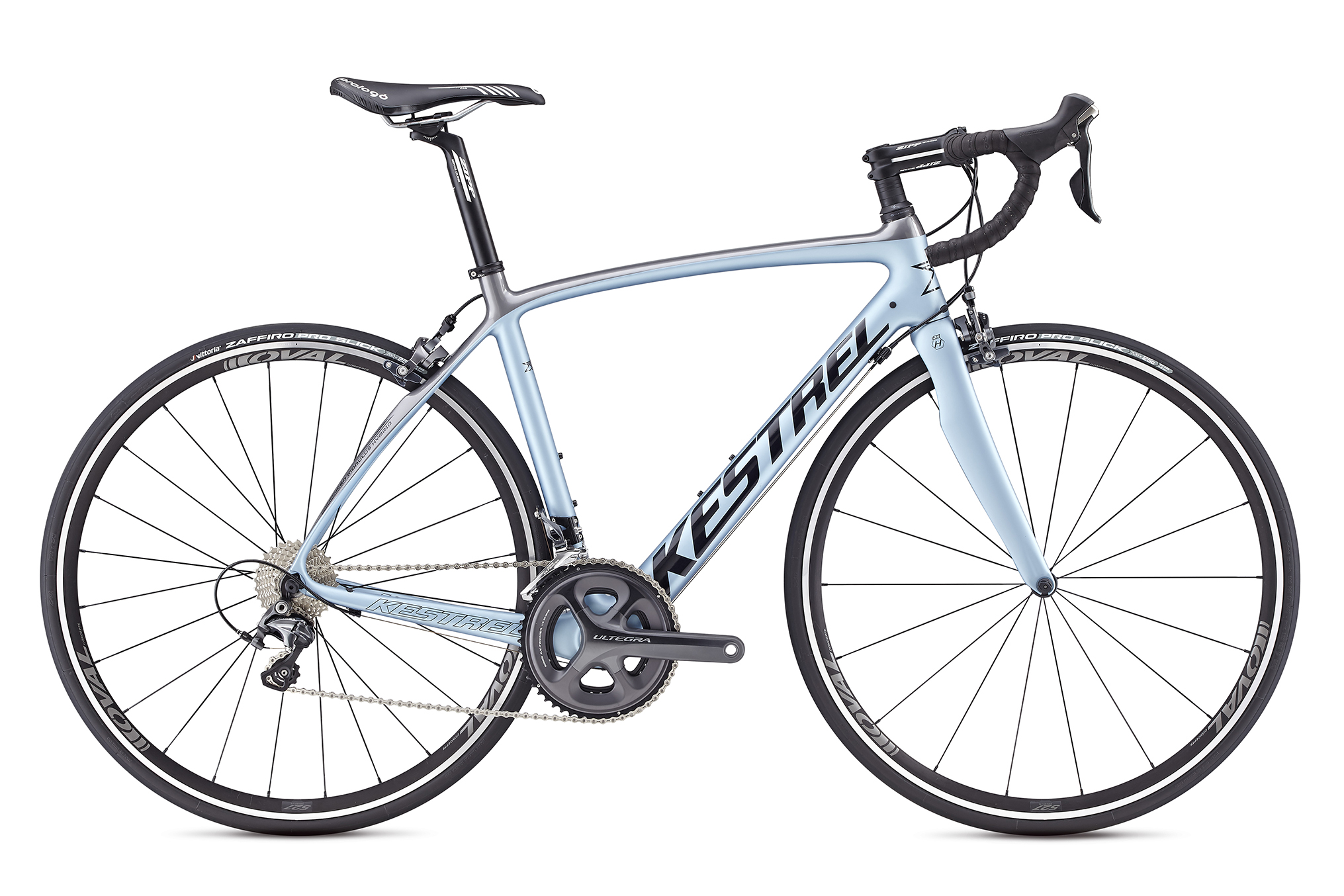 Click on images to enlarge
Guaranteed BEST PRICES on Kestrel Bikes!

The MSRP (Manufacturer's Suggested Retail Price) for this model is $2299.00. The MAP (Minimum Advertised Price) is $2149.00.

Kestrel launches their Tour level road bike, with thoroughbred race geometry that will fly over the pavement.
Kestrel's own blend of high modulus carbon provides the right mix of lateral stiffness for optimal power transfer, with just the right amount vertical compliance for a smooth and comfortable ride. The final product is a frame that accelerates when you put the power down, while eliminating chatter to rail around corners.

From BICYCLING Magazine: The Legend SL made a big splash at Interbike for Kestrel. Riders at Oudoor Demo loved its smooth, efficient ride. The frame uses asymmetrical stays and a BB30 bottom bracket for an impressively sharp drivetrain response, while tube shaping and carbon lay up help make the bike comfortable on long rides. The company describes their new bike as one platform that can do everything from crits to gran fondos. A medium frame weighs 780 grams, making it competitive with many high-end bikes.

From RoadBikeRider.com: One of the highlights of Interbike for me is the Tuesday morning Lake Mead Ride, which has been taking place for years now. It starts at 8 a.m. at the Outdoor Demo. Everyone has to scramble to get on the earliest buses leaving the Sands, so that they can find the right booth and request their favorite bike before the ride starts. Then, with a police escort and about 200 riders, we bomb downhill at breakneck speed on amazing bikes we've never ridden before and then make an abrupt U-turn and climb all the way back to the expo.
It's the classic sucker ride, with everyone feeling strong going out and the opposite going in. I've done the ride every year it's been held. I really enjoy it and ride it like a race with the guys hammering at the front. It's a great way to put a new bike through the paces.
This year I was lucky enough to be on Kestrel's Legend SL, with its 780-gram frame, the lightest the company has ever produced. I chose it because Kestrel was arguably the first carbon bicycle maker, and I wanted to try their latest.
Product manager Steven Fairchild explained that they designed the Legend to provide all the efficiency and performance of a race bicycle while adding compliance into the layup schedule and their H-stays and EMS fork to keep the rear wheel glued to the ground during high-speed cornering and take the edge off road buzz.
After the ride he handed me a frameset to inspect the flawless craftsmanship and feel the feathery weight of the high-modulus carbon and explained how they use polyurethane inner molds during construction for better compaction, fewer wrinkles (inside the frame) and optimized resin content. Similar technology is used in the fork for the same benefits. The top and down tubes also wrap around the head tube, stiffening the front end and improving steering precision, while the down tube is dual tapered and the chainstays are asymmetrical to boost power.
I loved the Legend's ride. Like Steven promised, it was rock stable at high speed plus nimble and quick. It was light and lively and it made hanging on the descent and climb a breeze.

Main Features
* 800K/700K high-modulus carbon fiber has a groundbreaking weight-to-stiffness ratio.
* Meticulously constructed with inner polyurethane molds in key areas, such as the bottom bracket shell and head tube, to smooth the fibers and control resin content, creating the lightest and strongest frame possible—from the inside out. The result is a lively, resilient ride feel.
* Similar construction for the fork uses an EPS foam mold to smooth and compact the fibers throughout, especially in the crown area, allowing the fork to be fine-tuned for rigidity with a touch of compliance.
* The down tube joins the tapered (1-1/8 - 1-1/2) head tube to increase lateral stiffness in the front end for excellent steering precision.
* The BB30 bottom bracket increases the frame's stiffness at the crank, and asymmetrical chainstays offset drivetrain torque for maximum power transfer.
* Geometry is fast and aggressive, with a super-low head tube for an aerodynamic position, but with wheelbase and head tube angles optimized for powering through long rides.

Where can you find the best price on this high performance bike?
Only from BikeShopWarehouse.com

NOTE: Kestrel bikes require longer for processing. They take up to a week for processing and then the standard FedEx shipping time of up to 6 days for delivery. You will receive the tracking number when the bicycle ships. If you are interested in a model not listed, give us a call and we can try to get it for you and save you money!

General Sizing Guide
48c usually fits riders from 5'3" to 5'5"
51c usually fits riders from 5'5" to 5'7"
53c usually fits riders from 5'7" to 5'9"
55c usually fits riders from 5'9" to 5'11"
57c usually fits riders from 5'11" to 6'1"
59c usually fits riders from 6'1" to 6'3"
62c usually fits riders from 6'3" to 6'5"
This is a general guide, if you need detailed info please consult the geometry chart. Sizing is a personal preference, the final choice is up to you
Sorry this product is out of stock.