WE HAVE THE BEST PRICE!
Click on images to enlarge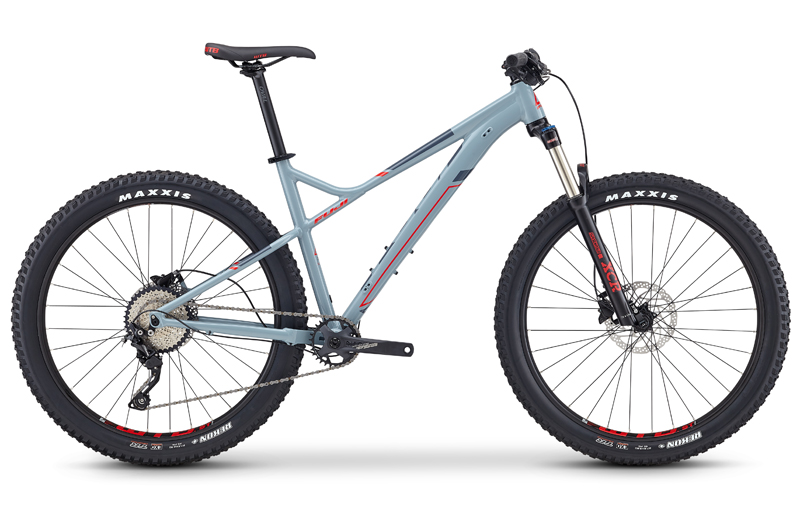 Click on images to enlarge
The Fuji Bighorn 27.5+ 1.7 Has Arrived!

Guaranteed BEST PRICES on Fuji Bicycles !

The Fuji Bighorn is a modern hardtail with aggressive geometry and spec that's up to the challenge of just about any trail. The 27.5+ tires on the Bighorn provide gobs of traction and stability for increased confidence on the trail. Smooth welds and incredible spec choice makes this the bike to compare all others to.

Key Features
• A6-SL super-butted aluminum frame with smooth welds is both strong and lightweight.
• Boost hub spacing stiffens the chassis.
• Shimano Deore 1x Shifting.
• Suntour XCR 34 LO Coil Front Shock w/ 110x15mm thru-axle, 120mm Travel
• FSA Gamma Pro 1x10 Crankset.
• Maxxis Rekon+ 27.5 x 2.8in tires, with plenty of clearance.
• WTB ST i35 TCS 27.5 Rims.
• Short Chainstays optimized for 1x drivetrains only.

Did you know? PLUS bikes are a special category between Standard MTB, 29ers and FAT Bikes. PLUS mountain bikes are super versatile.

What is a PLUS Bike? Faster and Lighter than a Fat Bike but just as Fun. More traction and control than a regular Mountain bike and about as Smooth Rolling as a regular 27.5.

PLUS Bikes and FAT Bikes! Ingeniously simple concept. Giant tires equals more control in loose conditions. The PLUS bikes have a a lighter tire than a regular fat bike and roll about as fast as a 29er but with much more floatation, traction, cornering and comfort

Super wide tires "float" over snow and sand…the fastest bikes you'll ever ride on mud, bogs, deep sand and snow. As a bonus, they're great convo makers and super smile-generators.

Where can you find a deal like this?
Only at BikeShopWarehouse.com
Sorry this product is out of stock.