SAVE OFF MSRP
NEVER PAY LIST!
Click on images to enlarge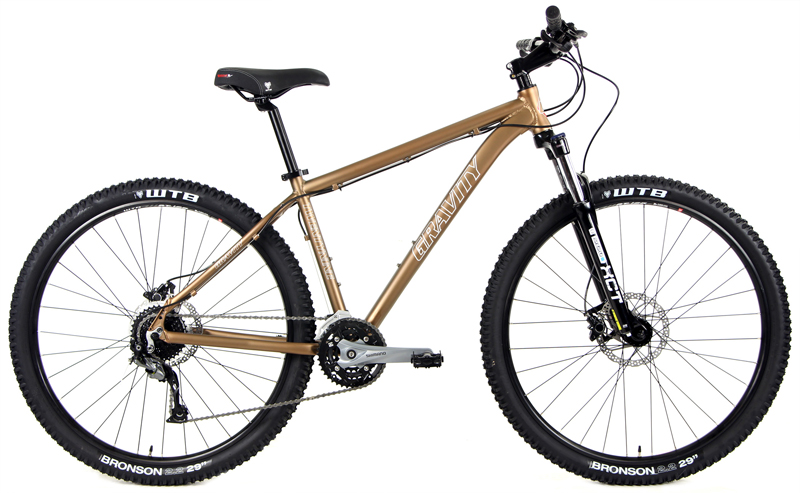 Click on images to enlarge
Have you checked out the Gravity 29.2? If not... you should!

Now with WTB TCS™ Tubless Rims, the Gravity 29.2 is truly one well equipped mountain bike!

Here's what WTB says about the TCS™ Technology
"Our TCS™ (Tubeless Compatible System) technology is the solution for riders seeking high performance, lightweight and durable mountain bike wheel systems that are easy to install, fun to ride and simple to service... (Simply add your own TCS™ Tires and Sealant and... Say goodbye to air compressors, tire levers and pinch flats. Say hello to your full riding potential." Read more about TCS™ by following the link at the bottom of this page.

Join the 29er Revolution
If you have ridden one you know why you want one. If you have ever wanted to try one, this is the best deal on a 27 Speed, Shimano drivetrain equipped 29er bike with powerful Hydraulic Disc Brakes and Lockout front fork.

Competition Ready
The 27 Speed Gravity 29Point2 is specified with competition ready components and has geometry based on careful research and trail testing. Please compare this bike directly against any other manufacturers $1,600+ 29er hardtail on the market. Their bikes are heavier or not as well equipped.

Extremely capable
Check out the long travel Suntour 29er front shock with lockout. The 29Point2 adds to those race winning specs; A smooth shifting Shimano crank, VP threadless headset, sweet shifting Shimano derailleurs with WTB/Formula Disc Wheelset, & truly amazing Tektro Hydraulic Braking System. (Hydraulic Disc Brakes are rated by magazines as the best. Way better than V-brake systems and far more powerfull)

Light Weight
This bike is lighter than most any other bike in its price range & has much higher level parts.

Sweet Handling
Gravity has really dialed in a race-proven geometry into this phenomenal ride. The handling is very responsive and yet stable. Singletrack and switchbacks are all handled with ease. Slow speed and high speed, technical and flat-out hammering, you will go faster because this bike is so capable. If you love the ride of the Gary Fisher Marlin, Cobia or Mamba, you will love the ride of this Gravity 29er bike.

Where can you get such a machine?
Only at BikeShopWarehouse.com

General Sizing Guide
15.5" usually fits 5'6" to 5'8"
17.5" usually fits 5'8" to 6'0"
19" usually fits 6'0" to 6'2"
21" usually fits 6'2" to 6'5"
This is a general guide, please consult the geometry chart. Sizing is a personal preference, the final choice is up to you.
Sorry this product is out of stock.