WE HAVE THE BEST PRICE!
Click on images to enlarge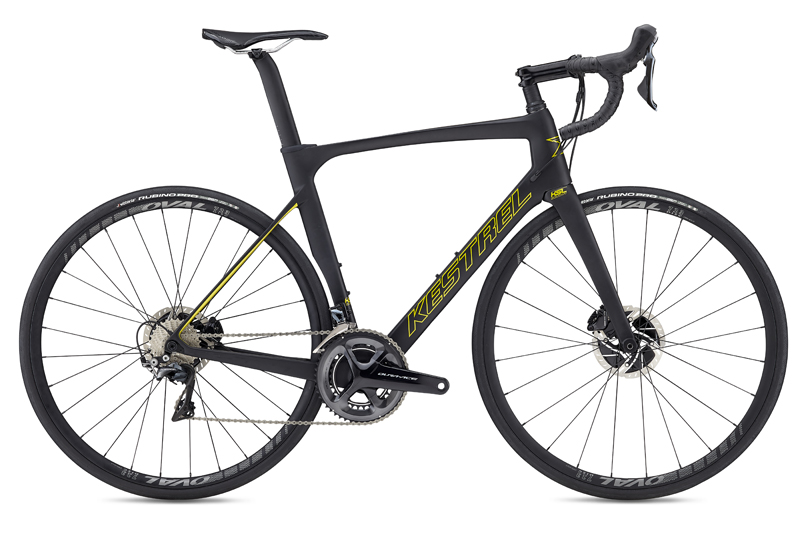 Click on images to enlarge
Guaranteed BEST PRICES on Kestrel Bikes!

Outside Magazine's "Bike of the Year" , the RT series continues to evolve into a lighter, faster machine. The Kestrel RT1100 is the endurance cyclist's ultimate tool when the miles stack up. Utilizing the latest technology in frame construction, the RT-1100 is light, fast, and efficient. Hydraulic disc brakes offer the highest level of control regardless of the weather.

Designed for the rider who requires both performance and comfort, the RT1100 features a taller head tube & sloping top tube for all-day comfort and stability. Touted as one of the fastest endurance bikes on the market, the RT1100 is the perfect blend of comfort, aerodynamics, and carbon technology that only Kestrel knows how to provide.

Kestrel believes that lighter, stiffer and faster bikes are born on paper and not through design mistakes realized by bike riders already on the road. The Kestrel RT1100 Shimano Dura Ace road bike is more than a mouthful, it's an engineered masterpiece.

Every Kestrel design is proprietary and engineered from scratch in Philadelphia, Pennsylvania. The process begins with computer-aided design and analysis. Once the modeling is over, Kestrel builds structural prototypes and submits them to a battery of laboratory tests, miles of riding under both sponsored athletes and the highly knowledgeable engineers themselves. The result is a Kestrel carbon frame that is executed with a high degree of engineering mastery. The RT1100 is made from 800k high modulus carbon fiber. The RT1100 frame is a dormant rocket ship, begging for even a small effort, and it will takeoff.

Look at these features:
• The All-New RT-1100 is constructed using our highest grade 800K high-modulus carbon fiber for a light, but incredibly strong platform. Kestrel's 800K carbon uses inner polyurethane molds in high-stress areas such as the BB shell and head tube to minimize wrinkles in the carbon layers for greater compaction, resulting in the lightest and highest performing frame possible.
• KSL Superlight Carbon construction using polyurethane molds to optimize compaction, reducing weight and increasing frame stiffness.
• The geometry places the rider in a slightly more upright riding position and uses a tapered 1 1/8"-1 1/2" head tube which enhances lateral stiffness for excellent steering precision.
• The Full Carbon KSL Fork is shaped to match the aerodynamics of the downtube. Flat mount disc brake and 12mm thru axle improve steering control and stopping performance.
• PF30 bottom bracket maximizes frame stiffness at the crank.
• Oversized and shaped downtube increases stiffness at key areas to optimize power transfer
• Shaped seat stays provide increased compliance for more comfort over uneven road surfaces
• Asymmetrically shaped chain stays are designed to improve lateral stiffness and power transfer.
• Integrated seat post clamp offers a cleaner aesthetic and improved aerodynamics.
• Each of frame size has unique tube lengths, diameters, shapes, and carbon layups to produce the best possible ride quality for every size rider.
• Shimano Dura Ace shifting offers best-in-class performance.
• Shimano Dura Ace R9170 hydraulic disc brakes provide consistent repeatable stopping regardless of the weather conditions.
• Oval Concepts 723 Disc tubeless compatible clincher wheelset offers lightweight and reliable performance
• Zipp Service Course SL handlebar and stem provide premium performance.

The RT1100 Shimano Dura-Ace is powered by, you guessed it, a Shimano Dura-Ace 11sp drivetrain. The shifters, working in tandem with the Shimano hydraulic brakes, allow for a greater level of modulation and power from the tops of the brake hoods, where most people ride a majority of the time. The 11sp Shimano SIS Dura-Ace rear derailleur integrates the wide link design prominently featured in both Dura-Ace and Ultegra derailleurs to not only promote quick shifting, but to preserve the pivots for greater durability and long term crisp shifting performance.

Oval Concepts has long been revered for producing high quality components. The Oval 723 Disc clinchers provide a speed advantage without going overboard and losing comfort. They are outfitted with Vittoria Rubino Pro tires that have a slick surface for low rolling resistance and a wider 28c profile for greater stability, especially while cornering. The Prologo Nago Evo saddle and a Kestrel EMS Pro Aero seat post add more efficiency to an already streamlined high performance road bike.

The Kestrel RT1100 road bike with Shimano Dura-Ace components is the pinnacle of design and modern performance technology. They have made it their passion to save you time and energy with every turn of the pedals.

Where can you find the best price on this Kestrel bike?
Only from BikeShopWarehouse.com

NOTE: Kestrel bikes require longer for processing. They take up to a week for processing and then the standard FedEx shipping time of up to 6 days for delivery. You will receive the tracking number when the bicycle ships. If you are interested in a model not listed, give us a call and we can try to get it for you and save you money!
Sorry this product is out of stock.