WE HAVE THE BEST PRICE!
Click on images to enlarge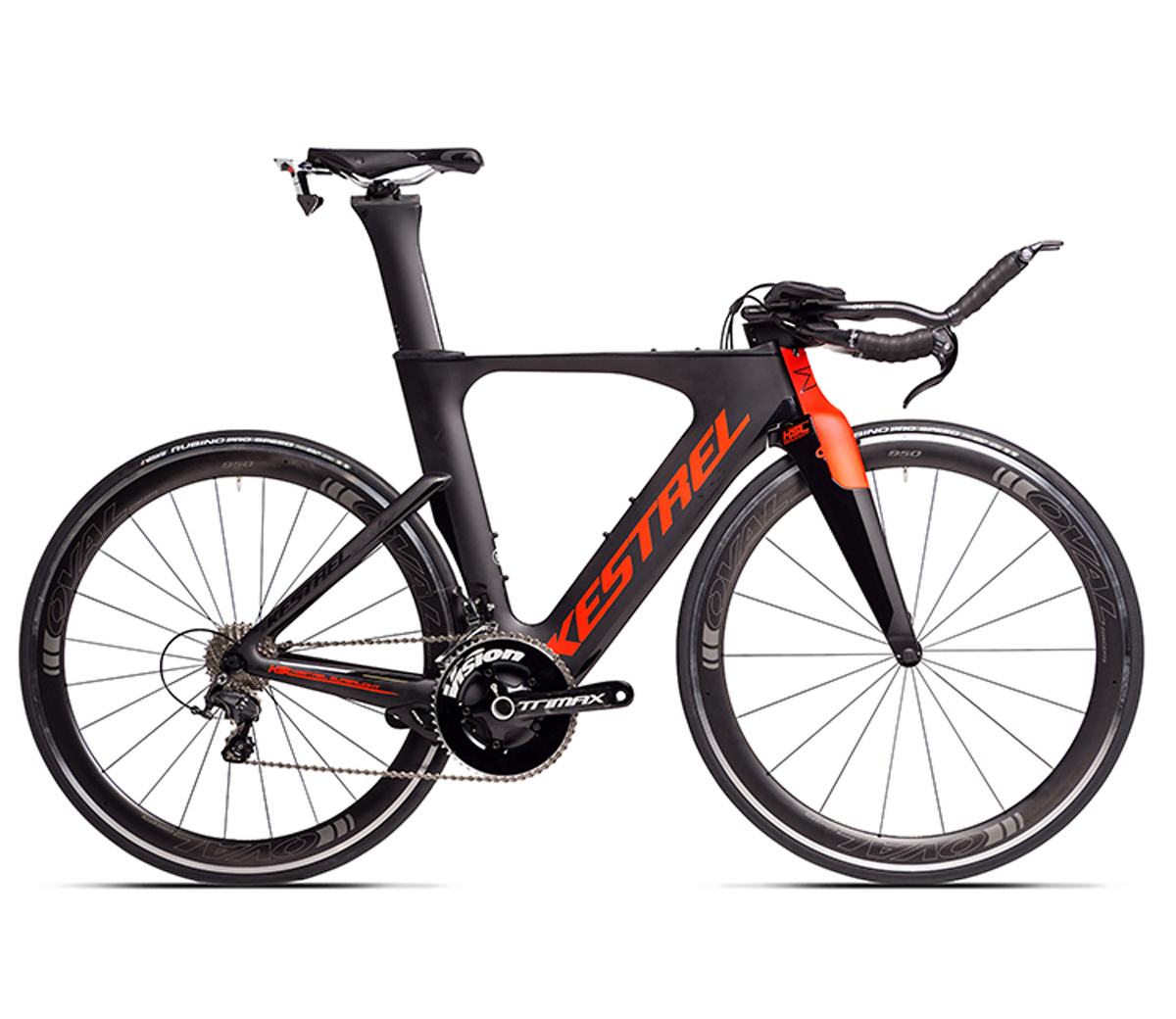 Click on images to enlarge
In 1987, the engineers at Kestrel introduced the world's first ever, all-carbon frame, the original 4000. 30 years of innovation brings us to the fastest model in our history's lineup. In a bit of a one-upmanship we have aptly named the new, highly aero, purposely designed superbike, the Kestrel 5000SL.

This new super bike is constructed of an all new 800K high modulus carbon fiber, the lightest and strongest frame possible

This Shimano Ultegra version of the 5000SL features the race proven Shimano Ultegra components.

Look at these Key Features
• 800K high modulus carbon fiber, Kestrel's lightest carbon construction used to date
• Traditional Oval Concepts handlebar and stem interface allow for easy adjustment and customization
• The stays, seat post, and seat tube are aerodynamically contoured
• Fully internal cable routing ensures clean airflow over the entire bike
• Shimano Ultregra Derailleurs
• Shimano DuraAce SL-BSR1 bar-end TT shifters
• Vision Crankset & Bottom Bracket
• TRP Aero brakes provide reliable stopping power and excellent aerodynamics
• Oval Concepts Wheelset w/ Carbon/Alloy Rims
• EMS Pro Aero Seatpost allows for the saddle to be mounted in a wide range of positions


Guaranteed BEST PRICES on Kestrel Bikes!

The MSRP (Manufacturer's Suggested Retail Price) for this model is $3500.00. The MAP(Minimum Advertised Price) is $3500.00.

Designed for the athlete seeking serious speed on the road, the 5000 is the fastest bike Kestrel has ever produced. With the aid of the A2 Wind Tunnel and a brand new carbon lay-up, the 5000 is 12% stiffer in the bottom bracket and chainstays than older models, resulting in more power to the pedals and an even faster ride. Used by top triathletes and professional cyclists around the world, including 4-time Ironman Champion Andy Potts, 2009 Giro dItalia Winner Denis Menchov, and 2008 Tour de France Champion Carlos Sastre.

"Sometimes, being fast is all about being comfortable." -Andy Potts

While many TT/Tri bikes tout themselves to be 'aero,' often the geometry is designed towards display, rather than performance. The Kestrel 5000SL was built in the wind tunnel to be one of the most aero bikes on the market, and unquestionably the most comfortable.
No matter if you're 5'2" or 6'5," you can count on this bike to have the same great ride characteristics in every size. Every angle is customizable to your personal fit, from the stack and reach of the Oval handlebars, to the Ritchey seat clamp that adjusts the seat-tube angle from 73 to 79 degrees. The adjustability not only allows you to extract your maximum power on the bike, but also have the legs to run off the bike. Additionally, adjustable chain stays snug your wheels close to the frame, no matter what tires you run.

Carbon is the fiber of our DNA Like all living organisms, Kestrel has a genetic code – a DNA – that is at the core of everything we do. We focus on four critical elements when we design our award-winning bikes: fit, material, testing, and athletes.

FIT It's all about harmony between rider and machine. We don't use "open molds" on any of our framesets, forks, or components. Us ing our own molds allows for total design and performance integration. The Kestrel design process begins with determining what body position will help our riders perform their best. Kestrel's road and tri geometries have been refined over two decades with input from athletes and fit experts in the industry, and our geometries are designed to fit a wide range of customers: weekend riders to full-time pros.

MATERIAL Carbon is the backbone of every Kestrel, it has been since 1986. Kestrel uses 800K in it's newest road rocket. The 800K is used to achieve the lightest possible overall frame weight.

TESTING Kestrels aren't just tested in the wind tunnel, they are designed in the wind tunnel. That means if certain standards aren't reached, it's back to the drawing board. In facilities like the A2 Wind Tunnel in Charlotte, NC, the numbers don't lie. We use extensive 3-D solid model computer drawings to produce fullscale prototypes, which we meticulously review and evaluate to search for every possible tenth of a second advantage. Testing begins at 0° Yaw and goes up to 30°. Wind speeds are set at 10, 20, and 30 MPH. And unlike most companies, we test more than just the bike – we put a rider on the bike as well as different wheels, bars, and parts, all in an effort to create the best possible package for each Kestrel frameset. Once the aerodynamics are nailed down, we simulate the most arduous riding conditions so we can refine material lay-ups and structural shapes to optimize stiffness and control.

ATHLETES Kestrel has always been about positioning itself at the top of the sport of triathlon, and that means working with athletes in the upper echelons of the sport. From the early days when 2-time Ironman World Champion Chris McCormack rode Kestrel's Airfoil to victory to our current Ironman Champion and U.S. Olympian Andy Potts and professional cyclists Denis Menchov & Carlos Sastre, winners of two of cycling's Grand Tours, Kestrel's partnership with world-class athletes continues to inspire us to make better bikes. After all, it's in our DNA.

Where can you find the best price on this versatile bike?
Only from BikeShopWarehouse.com

NOTE: Kestrel bikes require longer for processing. They take up to a week for processing and then the standard FedEx shipping time of up to 6 days for delivery. You will receive the tracking number when the bicycle ships. If you are interested in a model not listed, give us a call and we can try to get it for you and save you money!
Sorry this product is out of stock.